What is sanitary butterfly valves?
Views:0 Author:Site Editor Publish Time: 2020-07-30 Origin:Site
Sanitary butterfly valves may sound like a rather unfamiliar term, but they are actually used in a wide variety of industries. What exactly is a sanitary clamp butterfly valves? What functions and advantages do stainless steel sanitary butterfly valves have?
What is a sanitary butterfly valve?

Sanitary butterfly valve function

Is the sanitary butterfly valve clean?
What is a sanitary butterfly valve?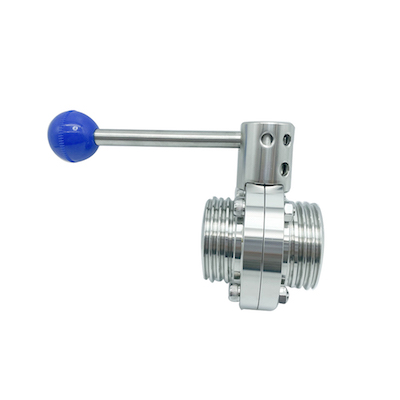 Sanitary clamp butterfly valves, also known as sanitary butterfly valve, is a flow control device. It is a form of butterfly valve with a body, disc and other components made of stainless steel. In applications such as food and beverage processing, personal care, biomedical or pharmaceutical applications, stainless steel sanitary butterfly valves are used to start or stop the flow of fluid through a section of the pipe through these devices. The health butterfly VALV E consists of a circular, split stainless steel body and a stainless steel plate at the center of the tube. The top and bottom of the disc (" butterfly ") have rods that position the disc in the body and attach to handles or actuators outside the valve. Rubber doughnut-shaped seats sit between the body and the butterfly. Turn the actuator/handle to make the disc parallel or perpendicular to the flow. Unlike ball valves, the disc is permanent in the flow; Therefore, no matter the valve position, there will always be pressure drop in the flow. Valve seals are affected by disc compression of the rubber seal. The rubber seal also seals the stem attached to the handle. Sealing material can be used with EPDM, Viton and Silicone. Most sanitary butterfly valve manufacturers offer sizes from 1 "to 4".
Sanitary butterfly valve function
One unique feature that customers should note is the handle style and material type. Not every manufacturer provides 304 and 316L valves. M's MTR and C may also be difficult to obtain. There, a good distributor can help you find the best valve manufacturer for your application. Not every manufacturer has always offered a wide variety of manual BFV handles. In addition to the standard quarter-turn handle, there are some common handles such as stepless adjustable W/lock hub, padded lock handle that locks the valve into place, nine-position handle, and even manual handle with proximity switch. Other considerations are end connections and valve footprint. Butterfly valves are usually sandwich valves, that is, the overall size should still be verified. Available ends include the Triclamp, I wire, and butt weld. When welding valves into a production line, an important consideration is maintenance of the valve. Although this is rarely done, you do not want to disconnect the valve from the production line every time you need to replace the seat. APV provides a flanged valve that is welded and bolted to the line to provide the ability to maintain the internal disc
Is the sanitary butterfly valve clean?
The word hygiene means different things to different users. Is the sanitary butterfly valve clean? Depends on your application. The fact that they are equipped with sanitary clamps and are made of polished stainless steel and FDA-approved elastors makes sanitary clamp butterfly valves relatively clean. They are through valves and are therefore relatively draining. But in some industries, there are problems with seals around the stem on disk. They don't usually get completely clean during the CIP cycle. Therefore, to truly clean the valve, it must be removed. As a result, butterfly valves are not 3A certified, and you rarely see them in biopharmaceutical applications. In ASME BPE it wasn't even resolved. But we do see them in food and beverage apps every day. Finally, what is clean enough is usually determined by the end user.
Although stainless steel sanitary butterfly valves operate on a relatively simple principle and are widely used in industrial and sanitary applications, each manufacturer has its own unique product. If you are looking for a high performance sanitary butterfly valve at reasonable price, Wenzhou Xusheng Machinery Industry and Trading Co.,Ltd will provide you with the best quality products.