Working principle of sanitary diverter valves
Views:0 Author:Site Editor Publish Time: 2020-09-17 Origin:Site
The sanitary diverter valves are used to stop flow and change flow direction in stainless steel pipe systems for various hygienic industry applications. This kind of sanitary diverter valve is opened and closed by rotating the hand wheel or turn knob.

The article will include the following:
What is the working principle of sanitary diverter valve?
What are the salient features of the sanitary diverter valve?
What should I pay attention to when buying sanitary diverter valve?
1. What is the working principle of sanitary diverter valve?
Sanitary diverter valves are widely popular flow control devices with high practicability in the food, biotechnology and pharmaceutical industries. In simple terms, it is similar to a mechanical switch, with the ability to close/open pipes and control the amount of material passing through them. There are different types of sanitary diverter valves, each suitable for a different pressure and service. Zero eccentric sanitary diverter valve has rubber flexibility and lowest rated pressure. High performance double eccentric sanitary diverter valve (for slightly higher-pressure systems) offset the center line of the disc seat and body seals and the center line of the hole (two off center). This creates cams during operation to lift the seat from the seal, creating less friction and reducing wear trends compared to the original offset design.
The body, disc and other components of the sanitary diverter valve are made of stainless steel. Its stainless steel is located in the center of the pipe. The disc consists of top and bottom rods connected to a handle or actuator on the valve body. When turning the handle, it also turns the disc parallel or perpendicular to its direction of flow. Sanitary diverter valve openings have specific pipe diameters to allow free flow of fluid when the sanitary diverter valve is open. A sanitary diverter valve is rather similar to a quarter - turn valve. The quarter valve can be opened or closed when the handle is rotated 90 degrees. If the sanitary diverter valve is partially open, this means that the disc does not provide unlimited access. On the other hand, if it is fully opened, fluid or air can pass through. It is designed in multiple locations so that the sanitary diverter valve can be opened slowly to reduce pressure on the equipment. The seal may be affected by disc compression against the internal parts of the rubber seal. Sealing materials include EPDM, Viton and Silicone, with sizes ranging from 1 "to 4". The configuration of each sanitary diverter valve is different. There are few manual operations, while others are automated. They vary in style, with only a few providing high performance in systems such as large pump lines and front areas.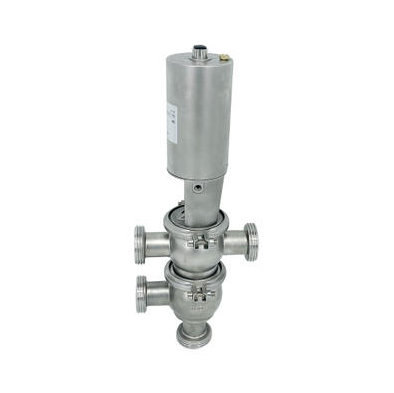 2. What are the salient features of the sanitary diverter valve?
1. The stainless-steel sanitary butterfly valve's full-bore design helps prevent the flow of solid components such as particles, powders and similar materials.
2. Because the surface of the valve is stainless steel and smooth, it is highly resistant to corrosion. The sanitary diverter valve helps to save money on changes to retrograde and village valves.
3. Sanitary diverter valves are also easy to clean because their surfaces have been polished, eliminating the chore of regular cleaning.
4. The automation of sanitary diverter valve can be easily achieved by using two rack and pinion pneumatic actuators. Manufacturers offer different switch packs to install into their actuator ranges.
5. It has the characteristics of simple structure, small volume, light weight and small installation space. Even the driving torque is small, simple and fast.
6. It is important to know that sanitary diverter valve have clamped ends so that they can be easily installed or removed when cleaning or working in a narrow space. This is a special design to minimize turbulence and maximum flow.
7. They have no water hammer and are not sensitive to the pressure shock of the pipe.
3. What should I pay attention to when buying sanitary diverter valve?
Sanitary diverter valve designed for these industries require a high level of attention to specifications such as pressure, breaking torque, flow coefficient, temperature, and standard diameter and weight. One should use the details to cover the maximum functionality required for each customer's requirements. Sanitary diverter valve manufacturers recognize the need to customize valves for their customers and to design high-quality materials that work effectively in all environments. These sanitary diverter valve can be started manually or automatically by using electricity. Sanitary clamp sanitary diverter valve are manufactured in a variety of designs and models to serve different purposes and bring maximum benefits to users.
It is recommended to purchase sanitary diverter valve from a government approved, certified manufacturer who is active in the industry and has many years of experience available to many customers. Also, make sure that all tools, accessories, and fixtures are tested before purchasing to ensure that you get the best product with zero problems. Professional manufacturers will provide regular repair and maintenance to keep the products in effective operation. The product should be thoroughly inspected and the surface should be effectively polished to reflect a bright surface. It is essential that valves operate efficiently, smoothly and error-free. When manufacturing sanitary diverter valve, always ensure that all requirements and standards are met.